2017 | OriginalPaper | Chapter
Ideology Without End?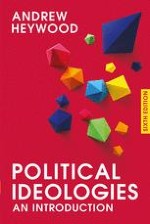 Author: Andrew Heywood
Publisher: Macmillan Education UK
Log in
Political ideology has been an essential component of world history for over 200 years. Ideology sprang out of the upheavals – economic, social and political – through which the modern world took shape, and has been intimately involved in the continuing process of social transformation and political development. Although ideology emerged first in the industrializing West, it has subsequently appeared throughout the globe, creating a worldwide language of political discourse. However, opinion has been deeply divided about the role that ideology has played in human history. Has ideology served the cause of truth, progress and justice, or has it generated distorted and blinkered world-views, resulting in intolerance and oppression? This debate has often been carried out in negative terms, highlighting criticisms of ideology, often by predicting its imminent demise. However, what is remarkable is how many and how varied the obituaries for political ideology have been. The various obituaries have been viewed as different forms of 'endism'. The idea of the 'end of ideology' became fashionable in the 1950s and early 1960s, and suggested that politics was no longer concerned with larger normative issues, as technical questions about how to deliver affluence had come to dominate political debate. In the aftermath of the collapse of communism, so-called 'end of history' theorists argued that ideological disagreement had ended in the final victory of western liberal democracy.