2004 | OriginalPaper | Chapter
Impertinent Trifling: Desdemona's Handkerchief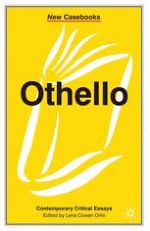 Author: Harry Berger Jr.
Publisher: Macmillan Education UK
Log in
Too much attention has been paid to the symbolic meanings of the famous handkerchief and too little to such considerations as its putative size (is it as big as a flag or as small as a facial tissue?) and the odd circumstances of its appearance and removal. Just when Othello's rage has reached a first climax, Desdemona enters to tell him he is keeping his dinner and dinner guests waiting (3.3.283–5).1 'I am to blame', he replies, and her next questions — 'Why is your speech so faint? are you not well?' (ll. 286–7) — tell us to hear something more in his reply than an apology for delaying dinner. 'I am to blame' is at the same time a logical response to the thought that concludes the soliloquy he has just uttered: 'If she be false O, then heaven mocks itself, / I'll not believe it' (ll. 282–3). 'Haply', he is to blame, 'for I am black, / And have not those soft parts of conversation / That chamberers have'; therefore 'She's gone' (ll. 267–71). Seeing Desdemona approach, he veers away from that dread conclusion and, in effect, blames himself for believing it possible. But perhaps he is to blame for having aroused her desire in the first place.