2016 | OriginalPaper | Chapter
6. In-Game Visuals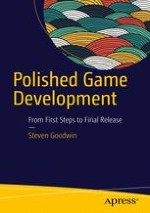 The Importance of Being Pretty
Author: Steven Goodwin
Publisher: Apress
Log in
Abstract
For most people, game polish and shine imply visuals. And that implies artists. While there is a lot of work for the artists to do in this area, it is not exclusively their domain. After all, if it were, the only words in this chapter would read,
Dear artists —please work harder and make it prettier!
It's a comment with zero substance, for sure. Instead we'll look at concrete examples of how traditionally simple visuals can be improved with a little code, a little art, and a little combined effort.