2013 | OriginalPaper | Chapter
8. In-Memory Databases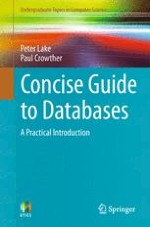 Authors: Peter Lake, Paul Crowther
Publisher: Springer London
Log in
Abstract
Disk based database technology has influenced database design since the inception of electronic databases. One of the issues with disk based media is that the physical design of systems tries to speed up processing by reducing disk access, in other words disk input/output (I/O) is a limiting factor which needs to be optimised. In-memory databases have been described as a disruptive technology or disruptive tipping point because it provides a significant improvement in performance and use of system resources.
In-memory databases systems are database management systems where the data is stored entirely in main memory. In memory systems have been shown to be 50,000 times faster than disk based systems. This increase in speed along with a falling cost and non-volatility of computer memory has led to a greater interest in in-memory databases from the mid-2000's. Preimesberger (
2013
) coins the term 'data half-life' referring to data being more valuable in real time and diminishing in value over time. Therefore speed of processing giving real time insights which can be used immediately is important. In-memory databases therefore allow real-time online analytical processing (OLAP) analysis on data from online transaction processing (OLTP).