2015 | OriginalPaper | Chapter
In Search of Soul: Where Now for Youth and Community Work?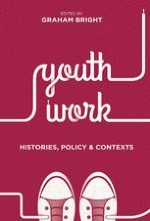 Author: Graham Bright
Publisher: Macmillan Education UK
Log in
Batsleer (2010: 153) argues that youth work presently 'occupies an ambivalent space' in which its very essence as a discrete emancipatory educational practice is threatened. The struggle for youth work's future, however, must be understood, debated and framed within wider critical analyses concerning the realities and direction of contemporary society on national and global levels (Davies, 2013). Contributors to this text have skilfully outlined the nature and development of youth work by drawing on both the richness of its history and the diversity of its contemporary practices. In doing so, they have articulated something of the necessity and value of youth and community work to a society increasingly experiencing the tensions of present-day flux, in which uncertainty, excessive individualism and isolation are the by-products of a postmodern reality, where neo-liberally framed ideologue appears an unstoppable and unchallengeable force (Sallah, 2014; Winlow and Hall, 2013). It is a power so unchecked that it challenges the very fabric of our society, and weakens both social bonds and the very basis of the democracy we treasure. Traditional forms of democracy are undoubtedly floundering (della Porta, 2013). Differences between major political parties are so wafer thin that conspiracists might legitimately have a field day. Governments have limited sway over what happens within their own borders; but, where it still can, the state utilizes its various apparatus to govern more punitively while presenting an illusion of individual freedom wrapped up in an agenda of diligent responsibilization.