2017 | OriginalPaper | Chapter
International Organizations: Can They Break Free from States?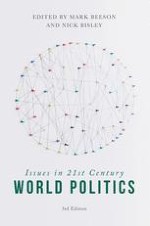 Author: Sean Starrs
Publisher: Macmillan Education UK
Log in
Collectively, international organizations (IOs) are one of the core actors in international relations (IR), especially since the dawn of the post-World War II era. There is not a day that goes by without some IO or another making the nightly news somewhere in the world. There are by now thousands of IOs seemingly covering every issue and region of the globe, including Antarctica and the oceans – and even outer space. Some are well known and have multi-billion dollar budgets with thousands of staff, such as the United Nations (UN), while others are more obscure, but nevertheless provide an important forum for IR, such as the International Seabed Authority. A key issue for the twenty-first century in relation to IOs is whether any of them are really autonomous from their member states, especially the most powerful ones? Are they at best a forum for member states to interact and negotiate with each other to advance common interests, at worst a tool of the powerful to impose their interests upon the rest? To put it another way, are there any significant IOs that have been able to move beyond internationalism to become supranational (between and above nation-states, respectively) in their governance? Can IOs break free from states?