2008 | OriginalPaper | Chapter
International Perspectives on Community Care: Lesson Drawing or Policy Learning?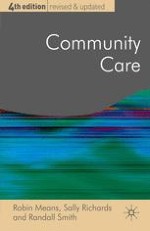 Authors: Robin Means, Sally Richards, Randall Smith
Publisher: Macmillan Education UK
Log in
The focus of this chapter is on the practice of community or social care activities in other 'first world' countries followed by illustrations of their influence on developments in policy and practice in the United Kingdom. Hill (2006, pp. 140–52) outlines how difficult it is to compare social care policies between different societies, so this chapter confines itself to a few examples of transfer of policy and practice. It can take a number of different forms. The literature is wide ranging and attempts to provide overviews have drawn on notions such as policy convergence, policy diffusion, policy learning and lesson drawing (Dolowitz and Marsh, 1996; Evans and Davies, 1999). For the purpose of this chapter, it is assumed that community care is broadly a 'low politics' activity whereby policy learning and lesson drawing are more germane than policy convergence or diffusion.