2013 | OriginalPaper | Chapter
Interventions: When and How?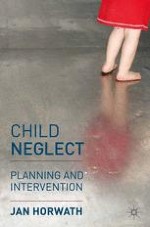 Author: Jan Horwath
Publisher: Macmillan Education UK
Log in
Thus far in this book I have considered the needs of neglected children and their families and ways in which professionals can assess and plan to meet those needs. In the previous chapters I have paid particular attention to the importance of trying to develop plans that not only improve the daily lived experience of the neglected child but also support parents in making changes to behaviours and attitudes necessary to ensure they meet the needs of their child. The quality of the plan will inevitably depend not only on parents' engagement in the change process but also on the services that are available to families and the way in which these services are delivered. In the third part of the book, therefore, the focus shifts to consider the range of interventions available to assist families where there are concerns about neglect. In this chapter I consider different levels of need and explore the factors that influence receipt of services at the different levels.