2013 | OriginalPaper | Chapter
Introduction: A.S. Byatt — A 'New' British Novelist?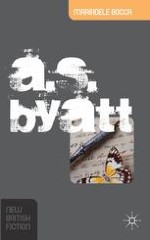 Author: Mariadele Boccardi
Publisher: Macmillan Education UK
Log in
A.S. Byatt's Possession: A Romance won the 1990 Booker Prize, Britain's most prestigious literary accolade. This novel appeared to encapsulate the literary trends of the previous decade: formal experimentation, a concern with the representation of the past, a sprawling plot centred around a mystery, the ludic proliferation of texts whose status as real or invented was insistently questioned and the metafictional dimension of action and narrative. Possession also heralded the direction that fiction in Britain would take in the following decade and beyond, most notably in its preoccupation with the factors shaping individual identity and its corollary gesturing towards a postmodern, millennial socio-intellectual context shared by characters, authors and readers alike. As Peter Childs cumulatively phrases it, in the novel Byatt 'brought together satirical slants on post-structuralist theory, the academic novel, detective fiction, the late Victorian Romance, and literary biography', and thus 'succeeded in blending the social perspective of the liberal realist novel with a dissection of history, identity, and language more typical of postmodernist writing' (11).