2010 | OriginalPaper | Chapter
Introduction: 'Doomed steadily to diminish'?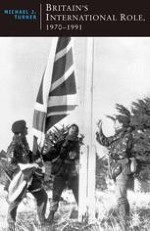 Author: Michael J. Turner
Publisher: Macmillan Education UK
Log in
To Margaret Thatcher, who served as Britain's prime minister from May 1979 to November 1990, and to her colleagues and supporters, the Falklands War of 1982 marked a resurgence of British power and prestige after thirty or more years of decline. 'The significance of the Falklands War was enormous', Thatcher insisted, 'both for Britain's selfconfidence and for our standing in the world'.1 In offering this version of events during her premiership, Thatcher had necessarily to contrast the recovery of the 1980s with what had gone before. Yet the political and economic problems of the 1970s and the limits they imposed on Britain's international role and influence were not as debilitating as was claimed, and similarly the increase in power and prestige of the 1980s was less dramatic and far-reaching than many contemporaries thought. These years present no simple trajectory of weakness and difficulty displaced by strength and success. What they present is a mixed record, but this is not to deny that there was something behind the idea that Britain's standing in the world was much higher than it might have been, and higher than it should have been in view of Britain's economic situation and military capabilities relative to the other great powers of the late twentieth century.