2010 | OriginalPaper | Chapter
Introduction — Imperialism: What's in a Name?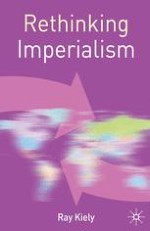 Author: Ray Kiely
Publisher: Macmillan Education UK
Log in
Talk of imperialism and empire came back into fashion in a big way in the first decade of the twenty-first century, to some extent displacing globalization as the keynote term of social and political analysis. In large part this was the result of the belligerent foreign policy of the Bush administration from 2001–8 in the US which some saw as a revival of more overt power relations at the expense of a more liberal and ethical multilateral international agenda (Held 2004; Habermas 2006). I will take issue with both sides of this equation in the course of this book, but its central purpose is to stand back from the specifics of the Bush presidency to provide a much broader 'rethink' of the meaning and nature of imperialism both in its earlier evolution and, more particularly, during and since the Cold War.