2013 | OriginalPaper | Chapter
Introduction: Not Partial, Prejudiced or Ignorant: The Study of Queens and Queenship in Medieval Europe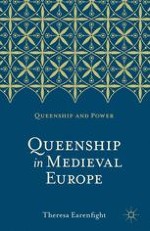 Author: Theresa Earenfight
Publisher: Macmillan Education UK
Log in
Jane Austen, in her famously witty 'History of England from the reign of Henry the 4th to the death of Charles the 1st, By a partial, prejudiced, & ignorant Historian', written in 1791, opens with this description of King Henry IV:
Henry the 4th ascended the throne of England much to his own satisfaction in the year 1399, after having prevailed on his cousin & predecessor Richard the 2d to resign it to him, & to retire for the rest of his Life to Pomfret Castle, where he happened to be murdered. It is to be supposed that Henry was married, since he had certainly four sons, but it is not in my power to inform the Reader who was his wife. Be this as it may, he did not live for ever, but falling ill, his son the Prince of Wales came and took away the crown; whereupon, the King made a long speech, for which I must refer the Reader to Shakespeare's Plays, & the Prince made a still longer. Things being thus settled between them the King died, & was succeeded by his son Henry who had previously beat Sir William Gascoigne.

1
Austen's tongue may have been in her cheek when she said that 'it is not in my power to inform the Reader who was his wife', but she clearly had her wits about her. She knew her history — and her historiography, too — when, as a precocious fifteen-year-old, she wrote this parody of Oliver Goldsmith's
History of England
(1771). Her barb was aimed not only at Goldsmith, but also a long and illustrious line of historians who knew that queens must have been present but they could not remember exactly who they were.