2011 | OriginalPaper | Chapter
Introduction: Our Aims and Approach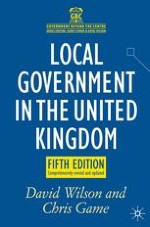 Authors: David Wilson, Chris Game
Publisher: Macmillan Education UK
Log in
Seeking a perceptive insight into the diversity of British culture, you would not necessarily turn first to a professional cricketer. But then Ed Smith was not your typical professional sportsman. He also wrote, during his playing career, books, articles, and even some literary criticism, and subsequently became a leader writer on
The Times
. He was a good enough batsman to represent England — three times in 2003, following a once-in-a-lifetime month in which he hit an astonishing six centuries in eight innings. It was an exceptional story that he turned into a fascinating book, in which he notes that:
One of the best things about being a professional cricketer is the opportunity to experience the rest of the country. You learn, if you look, that

things change quickly from county to county

. You notice smiles come more easily in some grounds and cities than in others. You learn that some counties harbour more hatred of government, or London, or flashiness. You hear different attitudes to money, to drink, to sport. (Smith, 2005, p. 78 — our emphasis)
What a contrast to Raymond Seitz, a former US Ambassador to Britain, whose observations opened this book's previous two editions.