2014 | OriginalPaper | Chapter
Introduction: Rethinking Anti-Discriminatory and Anti-Oppressive Practice in Social Work; Time for New Paradigms?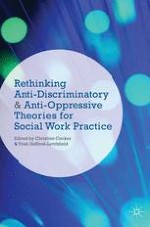 Authors: Christine Cocker, Trish Hafford-Letchfield
Publisher: Macmillan Education UK
Log in
The concepts of anti-discriminatory practice (ADP) and anti-oppressive practice (AOP) have been part of the social work landscape since the late 1970s. Learning how to be effective in promoting ADP and AOP are essential and fundamental areas within social work education, practice and research. These terms are embedded within the language used to describe the values underpinning social work practice, but, whilst once they may have offered an alternative critique of individual and societal relationships, they have now become part of 'status-quo' thinking, and have long since lost their political edge. Substantial structural changes, various cultural shifts, new social movements and contemporary contests from within the critical tradition of social work continue to challenge the core assumptions of social work theory and practice to develop new thinking (Healy, 2000; Powell, 2001). These evolutions have given rise to a relatively small, yet consistent and developing voice in academia, arguing for social work to think beyond the mainstream and to critique existing approaches (e.g. McLaughlin, 2005; Ferguson, 2007a; Millar, 2008; Ferguson and Woodward, 2009; Hicks, 2009, 2011; Brown and Cocker, 2011; Featherstone and Green, 2010). It is timely to look again at how social work understands the complexity of human experience and to explore different theoretical discourses to challenge assumptions and values.