2014 | OriginalPaper | Chapter
Introduction: what is so important about HGD?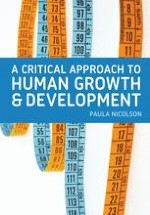 Author: Paula Nicolson
Publisher: Macmillan Education UK
Log in
Growing and developing are common to us all, but each one of us experiences these processes and their outcomes differently. As part of being human we make choices and decisions about how to live our own lives, but we also have our opportunities constrained or enhanced by biological (perhaps genetic) factors, our own and others' beliefs about what is important and what is possible, our emotional needs and the social and economic resources available to us.