2001 | OriginalPaper | Chapter
Introduction: What is this thing called love?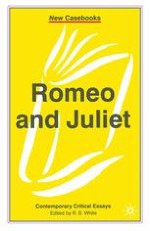 Author: R. S. White
Publisher: Macmillan Education UK
Log in
With its volatile mixture of adolescent passion, lyrical poetry and poignancy, Romeo and Juliet has always been a favourite amongst Shakespeare plays for performance and on school syllabuses. Memorable film adaptations, particularly by Zeffirelli (1968) and Luhrmann (1996), and its 'inset' appearance in Shakespeare in Love (1998), have given it wider currency as part of international popular culture. Oddly enough, the only people who have neglected it, at least relative to their attentiveness to other plays, are Shakespeare critics, who have never quite accepted it as a 'mature tragedy'. This may be because the plot appears to be parodied in the 'Pyramus and Thisbe' presentation in A Midsummer Night's Dream, as though even the dramatist could not take it fully seriously. But it is also because Romeo and Juliet does not conform satisfactorily to the paradigm of Shakespearean tragedy which, until recently, has prevailed: the idea of character as destiny — the 'great man' undone from within either by an innate weakness or a fallible moral decision.