2003 | OriginalPaper | Chapter
Introduction: what was British imperialism?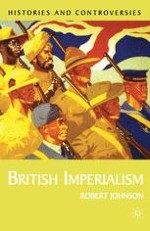 Author: Robert Johnson
Publisher: Macmillan Education UK
Log in
The British Empire seems, at first sight, to merit a straightforward definition. United by the British Crown, and governed from London, the vast array of territories and seas that fell under British military and economic control was the Empire on which 'the sun never set'. However, historians and social scientists have grown dissatisfied with the idea that the Empire was some monolithic entity exclusively and firmly under British government direction throughout the 300 years of its existence. In 1900, the British Empire covered one-fifth of the globe and governed 400 million subjects of many faiths and ethnic groups. There were 60 dependencies covering 3.2 million square miles, and British India consisted of a further 2 million square miles and 322 million subjects. In addition, Britain possessed five dominions covering 7.6 million square miles and 24 million people. As the hub in a system of trade, financial services, communications, migratory patterns, naval and military power, Britain had become, as Makinder once put it, 'the centre of the world'.