2005 | OriginalPaper | Chapter
Introduction: Why do Values Matter?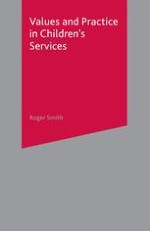 Author: Roger Smith
Publisher: Macmillan Education UK
Log in
Applying values in practice has been acknowledged as a significant challenge. Shardlow (1998, p. 23), for example, has equated the task to 'picking up a live, large and very wet fish' out of a flowing stream. Values permeate all aspects of policy and practice in child welfare work, yet they remain nebulous and confusing. Statements of principles are to be found prominently in policy and guidance documents which are intended to provide a focus for service delivery; the beliefs and attitudes practitioners bring to their work can be identified with professional and personal values; and values are also likely to be influential in determining the perceptions and responses of those who are involved as recipients or users of services. Whilst, in some cases, values and principles may be explicit in such transactions, those which are held implicitly in the form of underlying beliefs are equally likely to be influential in determining outcomes. As Dominelli (2002, p. 15) points out, values are both integral to practice and set the 'parameters' for determining professional responsibilities and what is 'defensible' in practice. For those concerned with the provision of welfare services for children, it is therefore important to be able to reflect on and understand the part that values play in influencing all aspects of policy and practice, from strategic decisions, through management, planning and decision-making, to the critical point at which interventions are actually put into operation.