2015 | OriginalPaper | Chapter
Introduction: Why Does China Matter?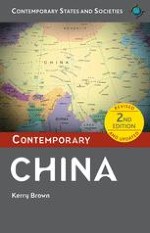 Author: Kerry Brown
Publisher: Macmillan Education UK
Log in
If for no other reason, the People's Republic of China (PRC), founded in 1949, is special because of its size, both geographically (the world's third-largest country) and in terms of its population (currently the most populous). This vastness, married to its long and complex history and internal diversity, means that it is hard to come up with a single, all-embracing framework within which to see the country. As this book will seek to show, there are many different aspects of modern China (from here on, 'China' will be used as a shorthand term for the People's Republic of China, while Hong Kong will refer to the Hong Kong Special Administrative Region of the People's Republic, and Taiwan to the Republic of China on Taiwan island), and many ways of viewing the country. Often, the greatest challenge is to forget preconceptions and try to look hard at what the country actually is in itself. There are many ways, as I shall argue later, in which it resembles a continent more than a country, with all the diversity and complexity that involves, and this has become especially so in an era in which its 31 provinces and autonomous regions have economies that often equate in size to those of major European economies.