2018 | OriginalPaper | Chapter
Introduction: Why Study EU Trade Policy?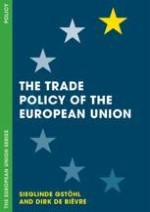 Authors: Prof. Sieglinde Gstöhl, Prof. Dirk De Bièvre
Publisher: Macmillan Education UK
Log in
From the creation of the European Economic Community (EEC) in 1958 until today, the member states of the European Union (EU) have crafted a common commercial policy. With this momentous decision embodied in the Treaty of Rome, within a few years they abolished tariffs and other barriers to trade between themselves, and they delegated the setting of external tariff levels and of rules regulating trade with the rest of the world to the supranational, European level. Member states thus granted the Union exclusive competence in the conduct of external trade policy. Along with only a few other policy fields, such as the regulation of the internal market, competition policy or monetary policy, trade policy is one of the outright most important exclusive competences of the EU. This makes the Union similar to a country in the realm of trade policymaking and international trade law.