2010 | OriginalPaper | Chapter
Introduction: Why Study Restoration History?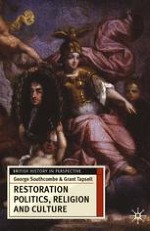 Authors: George Southcombe, Grant Tapsell
Publisher: Macmillan Education UK
Log in
Charles II's reign was 'a disgrace to the history of our country'. Such was the verdict of Charles James Fox in the early nineteenth century. Fox had peculiar insight into the rule of a duplicitous, libertine king. He had been named after the 'Merry Monarch' and was a direct descendant of the king on his mother's side. The similarities between the two Charleses did not end with their names or shared ancestry. Fox became a Regency rake of some infamy and his own moral dissoluteness means that his assessment of Charles II, while that of a hypocrite, was based on an understanding he had gained from direct experience.1 A century later the Tory Oxford academic C.R.L. Fletcher, who stood at the very opposite end of the political spectrum from the arch-Whig Fox, painted an even more damning portrait of James VII and II. James was 'a bad, cheap copy' of Charles I, one who lacked 'the dignity and courage of his father in adversity' and was just 'bad, unromantic and a fool'.2 Both Fox and Fletcher were writing within a venerable historical tradition in which ethical lessons were drawn from the past, and in which great figures were described in order to provide either exemplars or warnings to the authors' contemporaries. The warning offered by the later Stuarts was stark. Their example demonstrated with exceptional clarity the dangers posed to a nation by the prevalence of vice within its political elite.