2015 | OriginalPaper | Chapter
Introduction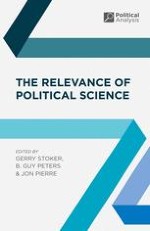 Authors: Gerry Stoker, B. Guy Peters, Jon Pierre
Publisher: Macmillan Education UK
Log in
As editors we should start this book by stating that we think that political science produces much work that is relevant but that it could do more to enhance the relevance of its work to policymakers, think tanks, non-governmental organizations and citizens. In 2010 we published a joint chapter on the issue (Peters et al. 2010), which developed that argument, and followed that by organizing a session at the American Political Science Association meetings that year on the topic of relevance. Here is a report on that session from a journalist (Jaschik 2010) who was present:
Gerry Stoker shared 'a wicked thought' he had when planning a session held on Saturday at the annual meeting of the American Political Science Association. What if he called as many senior figures in political science as he could reach and asked them 'if they had ever said anything relevant in their entire careers'? Stoker, professor of politics and governance at Britain's University of Southampton, didn't embarrass his discipline's luminaries by asking them one by one for any examples of relevance. (The laughter in the room, however, suggested that some might not have fared well if asked.)
The laughter in the room, we would like to think, also reflected the wit with which Stoker presented the issue; but there is undoubtedly a sense of unease when it comes to the issue of relevance both among American and other political scientists worldwide.