Hint
Swipe to navigate through the chapters of this book
2014 | OriginalPaper | Chapter
1. Introduction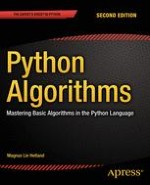 Author: Magnus Lie Hetland
Publisher: Apress
Log in
Please log in to get access to this content
To get access to this content you need the following product:
1
David Applegate, Robert Bixby, Vašek Chvátal, William Cook, and Keld Helsgaun
2
Let's assume that flying isn't an option.
3
Knuth is also well-known for using assembly code for an abstract computer of his own design.
4
I'm talking about constant multiplicative factors here, such as doubling or halving the execution time.
5
See
Chapter 2
for more on benchmarking and empirical evaluation of algorithms.
Title

Introduction

DOI

https://doi.org/10.1007/978-1-4842-0055-1_1

Author:

Magnus Lie Hetland


Publisher

Apress

Sequence number

1

Chapter number

Chapter 1