2013 | OriginalPaper | Chapter
Introduction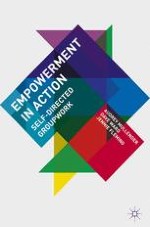 What Is It All About?
Authors: Audrey Mullender, Dave Ward, Jennie Fleming
Publisher: Macmillan Education UK
Log in
The self-directed groupwork model arose from practice, not theory: a reflexive process of information-gathering, analysis, understanding, action and reflection that is mirrored in its practical application. The model emerged as result of in-depth enquiry and critical reflection with individuals, with teams and in networks where we discovered group-work was taking place. This formed the basis of Self-directed Groupwork: Users Take Action for Empowerment (1991), the original version of this book, and the process has been revisited and repeated in preparation for this new edition. Once more, we have asked people to describe what they are doing and to explain why, thus enabling us to build up a rich and deep description and analysis of their activity. Germane theory has been drawn upon to clarify and explain what, why and how, particularly why, practitioners have been doing what they were doing.