2015 | OriginalPaper | Chapter
Is comparative politics useful? If so, for what?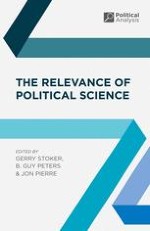 Author: B. Guy Peters
Publisher: Macmillan Education UK
Log in
One of my favourite findings in comparative politics was published several decades ago. A distinguished student of comparative public policy determined that the best predictor of per pupil educational expenditures among Swiss cantons was the altitude of the canton. The causal logic behind this finding is apparent, with lower population densities and higher general cost levels at high altitudes producing higher expenditures in the schools relative to the number of students. But is that finding really relevant, as there is nothing any political leader or institutional designer can do about altitude?