2017 | OriginalPaper | Chapter
Is EU Enlargement a Success Story or Has It Gone Too Far?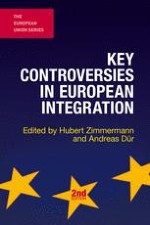 Authors: Hubert Zimmermann, Andreas Dür
Publisher: Macmillan Education UK
Log in
Enlargement has often been seen as the EU's greatest success story. From the first enlargement in 1973 to the most recent one in 2013, no fewer than 22 states have acceded to the EU. Many of the acceding countries were politically and economically weak when starting accession negotiations. Greece, for example, had been ruled by a military junta between 1967 and 1974, and still had to be considered a weak democracy when it joined the EU in 1981. Similarly, Portugal and Spain, the two countries that acceded in 1986, had been dictatorships until 1976 and 1975, respectively. All of these countries not only became stable democracies after entry to the EU, but also – at least until the recent sovereign debt crisis – witnessed economic development. No wonder that soon after the fall of the Iron Curtain and the transition to democracy in Central and Eastern Europe many of the formerly Communist countries deposited their wish to become members of the EU. As a consequence, the EU now has 28 member countries, with five more countries enjoying the status of official candidate states and another two countries being considered potential candidates.