2017 | OriginalPaper | Chapter
Is it an argument?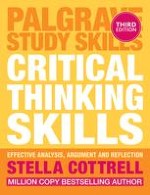 Argument and non-argument
Author: Stella Cottrell
Publisher: Macmillan Education UK
Log in
We saw in Chapter 3 that an argument consists of particular features. However, other messages may also contain some of those features without being an argument. This chapter looks at messages that are sometimes confused with argument, such as disagreement, description, summary and explanation. Being aware of what is not an argument helps critical analysis by enabling you to categorise different types of material. This, in turn, helps you to find your way around a text or other material more effectively. The most important material is often contained within the argument, so it helps if you can find it quickly. Critical thinking involves distinguishing what is really relevant from other forms of information.