2016 | OriginalPaper | Chapter
Is Leaking Classified Material Justified?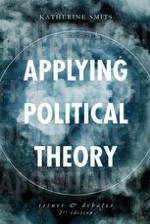 Author: Katherine Smits
Publisher: Macmillan Education UK
Log in
The rapid development of the internet has fundamentally transformed the ways in which we connect with each other, and access and distribute information, creating new mass public spaces that transcend geographical and national boundaries. The online revolution has made possible new opportunities for action on the part of individuals, states and organizations that use the internet strategically in political campaigning, but it has also made possible new forms of political action, such as online participatory democracy. In one of the most controversial examples of the impact of the internet on political action, government employees have used their access to electronic data to reveal classified state security-related policies and activities, with the aim of launching a critical public debate about them, and ultimately bringing them to an end. The WikiLeaks scandal and the public disclosures of classified material by Julian Assange, Bradley Manning, Edward Snowden and others challenge, as we shall see, our understanding of what kind of protest action against government policies is legitimate, and under which circumstances. In modern liberal democracies, two concepts, or doctrines, grant protests against the state legal or moral legitimacy. The first of these, whistleblowing, has only attracted legislative protection in many countries in the past 25 years.