2004 | OriginalPaper | Chapter
Is London Ungovernable?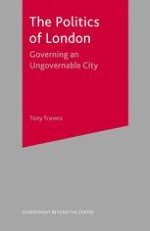 Author: Tony Travers
Publisher: Macmillan Education UK
Log in
The creation of a mayor and assembly for London in 2000 was undertaken, in good faith, by a government that believed the city needed a new, elected, city-wide administration. There had been clear evidence from opinion polls that Londoners supported such an institution. The abolition of the Greater London Council (GLC) in 1986 was still seen by many Labour and Liberal Democrat politicians as a spiteful intervention by an ideologically-driven government. Moreover, all London's international competitor cities had a mayor, or a city council, or both. Why should the British capital be different?