2019 | OriginalPaper | Chapter
Is politics broken?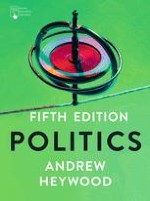 Author: Andrew Heywood
Publisher: Macmillan Education UK
Log in
In this concluding chapter, we return to some of the themes discussed in chapter 1, and, in the process, draw together some of the themes set out at diff erent points in the book. this is done by examining the nature and health of politics itself, taking particular account of how and why politics – and especially conventional, or 'mainstream', politics – has been subject to increasing criticism. of course, there is nothing new about politics being viewed in a negative light – the term has long been used as a 'dirty' word, implying an activity that is distasteful, even demeaning – but criticism seems to have risen to unprecedented levels in recent decades. Politicians, needless to say, have usually borne the brunt of these attacks, with popular associations with 'politician' commonly including 'liar', 'corrupt', 'careerist' and 'untrustworthy'. Politics, moreover, appears to be losing its ability to engage and enthuse, as witnessed by declining levels of voter turnout and falling party membership – trends that are most pronounced in mature democracies and particularly aff ect younger people. However, this may be a deeply misleading picture.