2016 | OriginalPaper | Chapter
Is there a European society?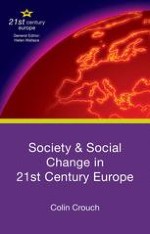 Author: Colin Crouch
Publisher: Macmillan Education UK
Log in
Many books present the social structures of individual states or more generally those with advanced economies. Far fewer define social structures for world regions, and the exercise might be questioned. That there should be something both coherent and distinctive about an individual country is usually taken for granted, which is why we are not surprised to see studies of the society, politics or economics of particular states. It is usually assumed that the actions of states – government and law – produce certain social characteristics. Taken for granted though it may be, that is in fact quite a strong assumption, as it means accepting that government and law are important in shaping societies. Do states play a part in determining how many children are in the typical family, or the ages at which people typically die? In the next chapter we shall discover that they certainly do, but it is important to recognize that the assumption might at some points be questioned. The nature of that assumption becomes clearer if we ask whether we would expect to find books about the social structure of a geographical entity below the level of the state. There is indeed a more than 1000-page-long sociology of Catalonia, in the Catalan language, La societat catalana (Giner, 1998). Catalonia is a very distinctive part of Spain with a high level of political autonomy, and a government able to make its own laws on many social and economic issues within the framework of overall Spanish law. The idea that a political variable is important therefore remains. Similarly, a British person would probably be less surprised to see a study of the social structure of Scotland than one of Yorkshire.