2017 | OriginalPaper | Chapter
9. Italy as an International Actor: Punching Above Its Weight?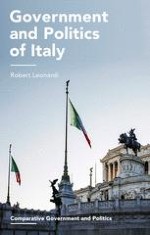 Author: Robert Leonardi
Publisher: Macmillan Education UK
Log in
Abstract
Italy's international position has changed significantly since the end of the last world war. At the beginning of the post-war period Italy could have been characterized as a "cue-taker" rather than a "cue-giver" as was the case for the other major European countries such as the UK and France. That role has gradually changed over time as a result of the transformation of both the international environment and internal context. On the one hand, the Cold War has ceased to divide Europe into two armed camps expressing two different economic and political systems, and on the other the European Union has expanded to include most of the remaining European countries outside of the Russian orbit. Now, the real theatre for the elaboration of Italian foreign policy is the European one rather than strictly the national one. In addition, there has been a restructuring of the countries located in the Mediterranean basin. The countries of southern Europe have entered the community of democratic countries. The authoritarian regimes that used to characterize Portugal, Spain and Greece are no longer in existence. Those in the western and eastern Balkans (e.g., Yugoslavia, Albania, Bulgaria and Romania) that used to be dominated by Communist regimes have moved away from command economies and one-party political structures, and a number of them (Slovenia, Croatia, Bulgaria and Romania) have joined the European Union. Yugoslavia is now divided into five countries, and two of them have joined the EU and the rest are applying to join in the near future. Italy, the country that so many observers had predicted would fall into the camp of authoritarian regimes, has succeeded in surviving or, in fact, thriving in the new European and globalized context.