2012 | OriginalPaper | Chapter
10. Just Supposing: Proof and Consequence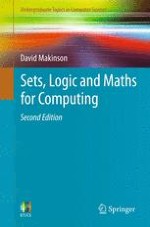 Author: David Makinson
Publisher: Springer London
Log in
Abstract
In the last two chapters, we learned quite a lot about propositional and quantificational logic and in particular their relations of logical implication. In this chapter, we look at how simple implications may be put together to make a deductively valid argument or
proof
. At first glance, this may seem trivial: just string them together! But although it starts like that, it goes well beyond, and is indeed quite subtle.
We begin by looking at the easy process of
chaining
, which creates
elementary derivations
, and show how its validity is linked with the
Tarski conditions
defining
consequence relations/operations
. We then review several
higher-level proof strategies
used in everyday mathematics and uncover the logic behind them. These include the strategies traditionally known as conditional proof, disjunctive proof and proof by cases, proof by contradiction and argument to and from an arbitrary instance. Their analysis leads us to distinguish
second-level
from
split-level
rules, articulate their recursive structures and explain the informal procedure of
flattening
a split-level proof into its familiar 'suppositional' form.