2010 | OriginalPaper | Chapter
Justice Restored?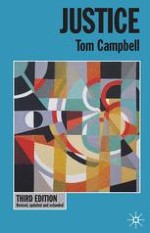 Author: Tom Campbell
Publisher: Macmillan Education UK
Log in
When the first edition of this book came out in 1988 justice was the dominant concept within political philosophy. The impact of Rawls's major work (A Theory of Justice, 1971) was still seminal, with competing theories, such as Nozick's entitlement theory, vying for attention in what was the main frontier in social and political thought. Now we are in a post-Rawlsian era (Arneson 2006) in which his methodology looks too contrived, his principles seem culturally restrictive and simplistic in their prioritizations, and there are doubts as to the prospects of grand theories generally. In the second edition (2001) my concluding chapter was entitled 'Justice in Eclipse?', raising the question as to whether our attention had shifted from justice to human rights, perhaps in view of the growing impact of human rights in domestic law and international relations. With this third edition, at the end of the first decade of the 21st century, it is tempting to claim that justice has been restored to its rightful place at the core of political philosophy. Certainly the emergence of deep interest in global justice is significant, and fundamental concepts, such as justice, are increasingly being called in to assist with the difficult questions which arise when we try to understand human rights and determine their content. Then there is the burgeoning literature on equality, much of which is associated with 'luck egalitarianism' and its implicit revival of desert theory which, I argue, has particularly close associations with the idea of justice. It would appear that, after a brief eclipse, justice has been restored, at least to the mainstream of political philosophy.