2020 | OriginalPaper | Chapter
Labour Law and Practices: Workers Paying the Price for Capitalist Failure?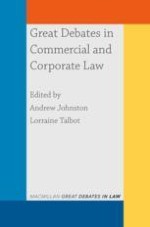 Authors: Charlotte Villiers, Roseanne Russell
Publisher: Macmillan Education UK
Log in
In this chapter, we investigate the interaction between company law, corporate governance and labour law. As we examine some of the key debates that feature within this interaction, we advance the argument that company law allows, and the corporate governance system encourages, corporations to hire workers under highly exploitative terms. Exploring the issue from a corporate governance perspective, we argue that the regulation of companies and broader corporate governance framework have features that encourage and depend on precarious labour. Our consideration of the debates leads us to suggest that the corporate governance imperative is to cut costs and transfer risks and that precarious labour appears as a logical response to this challenge. The traditional contractarian view would support a suggestion that any precariousness is met by robust protection provided by labour law. However, we argue that this does not reflect either the structure of the employment contract or the current deficiencies of statutory law, neither of which is capable of accommodating current labour practices in an entirely convincing manner. Moreover, we argue, this assumption brings with it new risks for corporate governance. What is needed is systemic change so that workers are valued and respected.