2018 | OriginalPaper | Chapter
Labour Markets and Social Models: The Triumph of Liberalisation?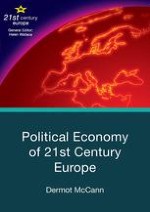 Author: Dr. Dermot McCann
Publisher: Macmillan Education UK
Log in
The structure and operation of the labour market is of pivotal importance to the functioning of political economic systems. A poorly performing labour market will inhibit efficiency and growth. Firms will not find appropriately skilled labour at an affordable price and/or workers will not find employment at acceptable wages (Adnett and Hardy 2005, 45). The particular character of labour-market institutions will also strongly affect the distribution of power among socioeconomic actors and the form of their interaction. Thus, the conduct and outcome of wage negotiations will be shaped substantially by the nature of collective bargaining rules and the organisational strength of trade unions and employers' associations. In addition, the labour market's functioning will both influence and be influenced by the wider structures of the welfare state. The terms of social security programmes have major implications for the cost of hiring labour and the willingness of workers to strike. The level and type of social transfers set a wage floor that conditions wage negotiations. Training regimes will affect the availability and cost of appropriately skilled labour (Pierson 2001b, 5; Dølvik and Martin 2015b, 4). Conversely, the model of employment relations, the structure of bargaining systems, rules of employment protection, etc. fundamentally influence welfare-state institutions and policies (Wood 2001, 368).