1996 | OriginalPaper | Chapter
Labour's Turning-point?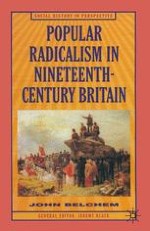 Author: John Belchem
Publisher: Macmillan Education UK
Log in
Through an electoral understanding with the Liberals in th e Edwardian years, the newly-formed Labour Party was incorporated in 'Progressive Alliance'. A tactical and ideological accommodation, Labour's role in the alliance, historians insist, attests to the continuity of radicalism, preserving the spirit of Lib-Labism in reconstituted form.1 As this chapter demonstrates, the formation of independent Labour was not a dramatic or decisive break. In its public political language, independent Labour kept within the mainstream current of radicalism, drawing upon conventional (and accessible) idioms and motifs. The following chapter will review the relationship of Liberal and Labour in 'Progressive Alliance', stressing points of increasing tension — cultural, organizational, class and gender — which call into question the extent of ideological harmony and continuity.