2011 | OriginalPaper | Chapter
Local Elections: Christmas Tree Lights?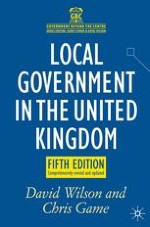 Authors: David Wilson, Chris Game
Publisher: Macmillan Education UK
Log in
Of the several characteristics identified in Chapter 2 as distinguishing local authorities from other institutions of public administration, the most fundamental is the fact of their election, aspects of which provide the content of the next two chapters. Chapter 14 focuses on the products of the electoral process: the councillors, while this chapter looks in detail at that process: how elections are conducted, who votes, and how those votes are cast. They have been tagged 'the Christmas tree lights of British politics — one has to have them every year and they undoubtedly add colour to the scene, but are rarely that illuminating' (The Times, 3 May 2003, editorial). This chapter argues that their candlepower is underrated — and that the metaphor says more about the dismissive way in which the national media typically view and report — or, more commonly, ignore — local elections than it does about the elections themselves.