2011 | OriginalPaper | Chapter
'Localism, localism, localism'?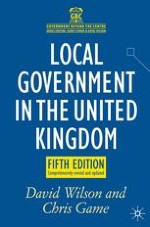 Authors: David Wilson, Chris Game
Publisher: Macmillan Education UK
Log in
We opened the first chapter of this book with a quote from a professional sportsman, so there is a certain symmetry in doing the same in the last chapter. This time it's the American basketball player, John Wooden, who died aged 99 just as we had reached this point in the book's revision. Wooden is the only person inducted into the Basketball Hall of Fame as both player and coach, and it is in the latter role that he became one of the more widely quoted American sportsmen. 'When everyone is thinking the same, no one is thinking' was one of his sayings, and he might well have been talking about localism. It seems every mainstream politician today believes — or wants it believed — that they are localists, which makes it a pretty good bet that most aren't bringing that much heavyweight thought to the matter.