2006 | OriginalPaper | Chapter
Management as vision, strategy and leadership, or management of uncertainty?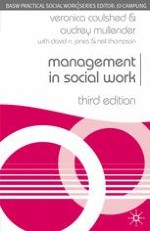 Log in
Although providing leadership is only one aspect of what the top manager does, it is the most visible — particularly when it is lacking. In the view of the project director for the Audit Commission/Social Services Inspectorate Joint Reviews: 'Where authorities are failing, it's usually down to a lack of a clear steer and grip on the organisation by management and a lack of accountability' (Hirst, 1998, p. 8). He also relates this to the overall culture of an organisation, as we did in Chapter 3. In a later report, the Joint Review Team interviewed directors in departments that had implemented successful changes and was 'struck by how often questions about the critical success factors led directors to reflect not only on their actions, but also on their style and approach' (DoH/SSI and the Audit Commission, 2002). Consequently, leadership is often seen as a key element of management. To show how it relates to the whole organisation, we link it to vision and strategy and go on to comment on leadership roles and styles.