2001 | OriginalPaper | Chapter
Men Social Workers in Children's Services: 'Will the Real Man Please Stand Up'?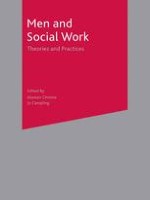 Author: Stephen Hicks
Publisher: Macmillan Education UK
Log in
In this chapter, Hicks describes the experiences of men, and in particular gay men, who are working in children's services. He argues, using three case studies, that men social workers can develop positive working relationships with children and parents. Hicks identifies an absence of analysis of men's sexual violence in research on male survivors of sexual abuse. He does not argue that men social workers should become 'role models', but that they have particular responsibilities to challenge men's sexual violence and to question dominant forms of masculinity.