2019 | OriginalPaper | Chapter
Monetary Policy and The Eurozone Crisis: The Emergence of German Hegemony?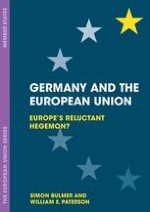 Authors: Simon Bulmer, William E. Paterson
Publisher: Macmillan Education UK
Log in
Monetary policy is a key area to explore in understanding German power in the EU. It brings out Germany's strongly held beliefs about the conduct of policy that diverge from those of its long-standing partner, France. These tensions date back to the first moves towards EMU in the early 1970s. They became a real concern during the Exchange-Rate Mechanism in the early 1990s but the German position was then assumed to have been diluted by the move to monetary union. After all, Germany had surely given up its powers and the Bundesbank was no longer determining interest and exchange rates. In fact when the eurozone crisis broke in late 2009 it soon became apparent that German influence over EMU remained great. For states requiring a rescue Germany was seen as being behind the imposed austerity policies, resulting in rising concerns about hegemony and even popular opposition in the streets, notably in Greece.