1999 | OriginalPaper | Chapter
Money and Government: Roxana and The Beggar's Opera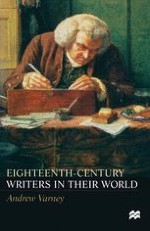 Author: Andrew Varney
Publisher: Macmillan Education UK
Log in
In his second
Moral Essay
on the subject of 'the Use of Riches' Pope describes how the unnatural and uncomfortable ostentatious grandeur of Timon's villa will in the course of time be repossessed by nature:
Another age shall see the golden Ear Imbrown the Slope, and nod on the Parterre, Deep Harvests bury all his pride has plann'd, And laughing Ceres re-assume the land.

1
The gold which Timon so lavishly squandered will be displaced by a more productive gold in the ears of corn. The villa is not going to revert to wilderness; it is going to be transmuted into a productive estate working in harmony with opulent nature. The process will be a kind of laundering of bad money.