2017 | OriginalPaper | Chapter
More Powers for Brussels or Renationalization?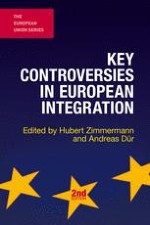 Authors: Hubert Zimmermann, Andreas Dür
Publisher: Macmillan Education UK
Log in
One question has been at the forefront of research on the EU ever since its creation: would there be a steady shift of authority away from member states and towards the supranational institutions or would member states retain or even claim back their powers? The neofunctionalist theory of European integration was the first response given to this question: its proponents expected that national actors would increasingly shift their loyalties and expectations away from the national level and towards the new centre set up in Brussels (Haas, 1958). It did not take long for intergovernmentalists to respond that national governments would not be willing to give up their control of the speed and direction of integration (Hoffmann, 1966). The debate gained particularly broad attention with the acceleration of the process of European integration in the late 1980s, this time pitting supranationalists (Sandholtz and Zysman, 1989) against liberal intergovernmentalists (Moravcsik, 1998).