2006 | OriginalPaper | Chapter
'My tongue is full of old ideas': Race and Ethnicity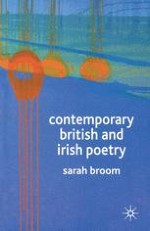 Authors: Benjamin Zephaniah, Jackie Kay, Moniza Alvi
Publisher: Macmillan Education UK
Log in
Patience Agbabi's poem 'The Black The White and The Blue' gives a snapshot of prejudice in London life. PC Edward White, 'East End born East End bred', is both racist and guiltily gay; as one of the 'boys in blue' he beats up black and Asian men, but after his night-time transformation into a 'West End fag' he is himself the target of violence:
West End fag West End fag

stabbed in the back by an East End lad

son of a racist left him for dead

boy in blue is covered in red

Black man Asian man

kisses his lips and holds his hand

Nigger Paki Queer

when will we walk the streets without fear?

1
The poem is compelling in performance, delivered by Agbabi in a rhythmic staccato style with powerful use of pauses. The repetition and parallelism are crucial in the poem's communication of the incessant return and repetition of violence and prejudice as well as the damage inflicted by repetitive derogatory labelling. Agbabi is one of Britain's most exciting performance poets,
2
and, in common with many other performance poets in Britain, she takes advantage of the direct and personal connection between poet and audience in the performance context to make forceful comments on political issues. One of the issues that is central to her work, and to the writing of the three poets discussed in detail in this chapter, is race.