2003 | OriginalPaper | Chapter
'New Imperialism' and 'Gentlemanly Capitalism': did the flag follow trade?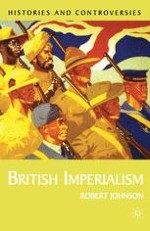 Author: Robert Johnson
Publisher: Macmillan Education UK
Log in
Britain's formal Empire expanded dramatically from the late 1870s, with new colonies added in Africa and Asia. In the space of barely 25 years, the European powers together partitioned 10 million square miles in Africa and governed 110 million new subjects. South-East Asia was carved up, with France and Britain taking the lion's share. In the Indian Ocean and the Pacific, Britain, Germany and the United States acquired new territories and islands. In the second half of the nineteenth century, America and Russia stepped up the colonisation of their vast hinterlands. Even apparently moribund older empires such as Portugal and China renewed their imperialist drive, the Portuguese in Africa and the Chinese in Xinjiang. The world in 1900 was a world of empires.