2011 | OriginalPaper | Chapter
New Media, New Politics?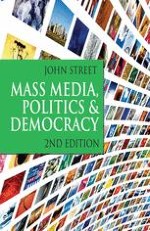 Author: John Street
Publisher: Macmillan Education UK
Log in
The growth of the internet has been extraordinary by any standards: from a local secret among scientists at the beginning of the 1990s to the topic of everyday conversation at the end of the decade, from an anarchic information network for the bizarre and the banal, to a chaotic economy of self-made (paper) millionaires and inflated share prices, to a world of Twitter, Wikipedia, social networking sites and a media political economy which is fast becoming the domain of Google and its like. The figures for internet use — not an exact science — suggest that, in the first decade of the twenty-first century, numbers have grown by over 380 per cent. There were some 360 million users in 2000; at the end of the decade there were 1.7 billion — one in four of the world's population (http://www.internetworldstats.com/stats.htm). The accompanying rhetoric has been similarly dramatic, with talk of every aspect of human life, including politics, being transformed by this new form of communication.