2001 | OriginalPaper | Chapter
New Myths or Old?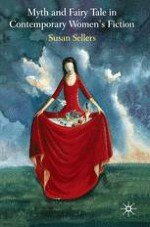 Angela Carter's Mirrors and Mothers
Author: Susan Sellers
Publisher: Macmillan Education UK
Log in
In Angela Carter's perplexing tale 'Reflections', the male narrator is forced to kiss himself in a mirror.3 Since he fully expects the reflected lips to be cold and lifeless, he is astonished when he discovers that they are warm and moist and that the embrace excites his sexual desire. The narrator is drawn through the mirror by the kiss, into the antithetical domain of its other side. Despite the strange, topsyturviness of this realm, where the reversed laws require the narrator to do the opposite to what he intends, it quickly becomes impossible for the narrator to distinguish between the real world and its reflection. Carter's precise, elaborate descriptions make the hold this mirror world exerts over the narrator entirely convincing.