2012 | OriginalPaper | Chapter
Nigeria and Congo-Zaire from the 1970s to the Late 1990s: Regional Giants, Giant Failures?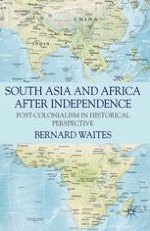 Author: Bernard Waites
Publisher: Macmillan Education UK
Log in
In the early 1970s, Nigeria and Zaire were vying for the leadership of 'Black' Africa. Their large populations, mineral wealth and abundant land, coupled with nuclei of modern industry, rapid improvements in the quality of the labour force and strong state institutions promised a far brighter future than that awaiting newly independent Bangladesh. Inflation had been halted in Zaire and the currency's international value stabilised; there was negligible debt and ample foreign exchange reserves; it was attracting new foreign investors. In Nigeria, the civil war's economic consequences could be shrugged off because its end coincided with the onset of the great oil boom. The state transformed the country's 'public face' by enormous investment in physical infrastructure, national institutions (such as universities) and prestigious events, most notably the great Festival of Black Arts and Culture, held in Lagos in 1977. However, by the later 1990s, Zairians were far poorer on average than Bangladeshis and Nigerians no wealthier. Zaire had virtually ceased to function as a state and the Nigerian Federal Government was unable to suppress armed dissidence in the Niger Delta. Nigerians had so little confidence in their own country as a site of economic opportunity that they were holding about $107 billion of their wealth abroad, or three times as much as the private domestic capital stock (Collier, 2003). Apart from crude oil, Nigeria's 'foreign trade sector' consisted of international fraud and the re-export of narcotics. State decline cannot be represented as a linear narrative, for there were several occasions when the political class in Nigeria and Zaire appeared to be resisting it by reforming institutions and governance, but incipient decay is the inevitable focus of this chapter.