2008 | OriginalPaper | Chapter
No Direction Home?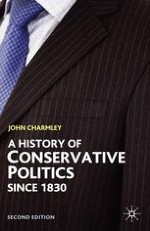 Author: John Charmley
Publisher: Macmillan Education UK
Log in
At London's Royal Festival Hall, Tony Blair arrived from his Sedgefield Constituency to announce 'a new day has dawned, has it not?' All over Britain, Conservatives were not coming to terms with a massive electoral defeat. The result of the 1997 election had not been unexpected, but the sheer scale of the disaster was overwhelming; whatever the polls said, many Conservatives, activists and Members of Parliament had come to believe that they could not possibly be accurate. The pollsters' errors in 1992 may have encouraged this attitude, but the reaction of those canvassed (when canvassing took place) seems to have added to this. Disillusioned Conservative Europhile, Julian Critchley, spoke of a wilful self-deception 'passed up the line'.1 As it was, for many activists the tidal wave which had hit them was totally unexpected. MPs who had confidently been looking forward to participating in the leadership contest that was sure to follow the election found themselves needing to look for alternative employment, as seats that had been Conservative for as long as anyone could remember suddenly acquired Labour or Liberal Democrat MPs.